While no specific energy and natural resources projects were a part of the formal China-Australia Strategic Economic Dialogue agreement, deteriorating relations are unsettling Australia's commodity producers. Beijing is now actively discouraging Chinese investment in Australia's energy and natural resources sectors, while China's use of selected import bans, restrictions and other hurdles looks likely to continue – and potentially widen – across a range of Australian exports.
But despite Beijing's increasingly hard line, a more widespread import ban looks unlikely, particularly on the Australian iron ore that is so critical to China's infrastructure boom. LNG, too, has so far dodged any significant punitive action, with volumes into China continuing to rise through the first four months of 2021. Australian LNG projects will welcome this, but could they be next in Beijing's crosshairs if relations continue to sour?
The immediate impact on commodities
Several Australian commodities were already facing restrictions in the Chinese market ahead of last week's announcement by the NDRC. An informal ban on thermal coal has been in place since 2020 and has affected trade flows and seaborne prices over the past six months. Second-guessing how long such bans might continue is risky, given that NDRC referred to an "indefinite suspension" of dialogue, but we assume the impact on thermal coal will continue at least through 2022.
Similarly, Chinese smelters remain closed to copper concentrates from Australia. China's unofficial ban started to impact exports from Q4 2020 and, while some limited quantities of Australian concentrate imports were reported in October and November last year, imports ground to a halt from December onwards. WoodMac's copper team estimates that the annual volume affected is around 1 Mtpa of concentrate, forcing China to look elsewhere in a very tight market.
Iron ore staying strong
China depends on high-quality Australian iron ore, with around two-thirds of its imports coming from Australia. While an outright ban would be almost unimaginable, various forms of restrictions, delays or increased administrative burdens on Australian iron ore imports could yet happen. China did amend some iron ore import screening regulations in June 2020, introducing measures that could be used to target Australian iron ore. But given ongoing constraints to Brazilian supply, it seems unlikely that Beijing will want to go much further while the market remains tight.
An uncertain outlook for Australian LNG exports to China?
The potential for the dispute to impact Australian LNG exports to China is becoming clearer. Australian LNG is essential to meeting Chinese demand, with volumes up 8% already in 2021 and accounting for around 45% of China's total LNG imports. But could this be at risk?
Unconfirmed media reports this week have suggested that smaller LNG buyers in China have been told that Australian spot LNG cargoes are now off limits. If true, then while the impact will be relatively limited – China's second-tier LNG importers only account for around 10% of the country's total imports – it would signify a further escalation in China's use of trade in what is an essentially political dispute.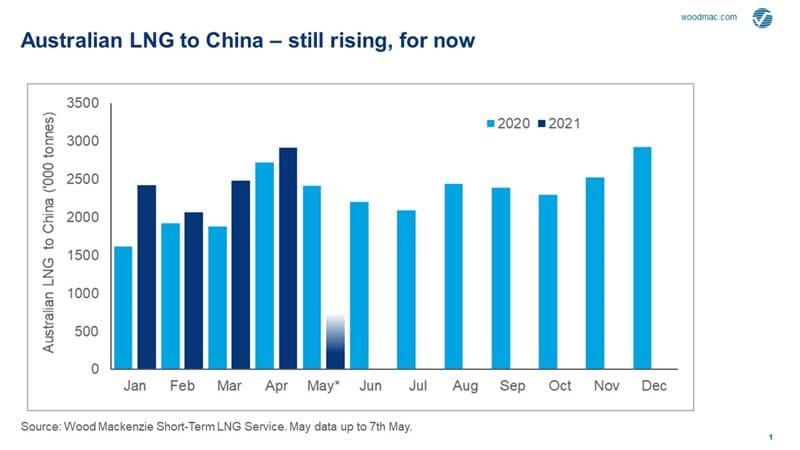 Beyond this, Beijing could look to further impact Australian LNG exporters. Given the volumes at stake, an import tariff similar to the 25% slapped on US LNG exports in 2018 would likely be too painful for Chinese buyers and consumers. But Beijing might consider moves to deter Chinese buyers from signing new long-term contracts with Australian projects. This could be politically expedient, allowing Beijing to highlight its willingness to widen punitive actions on Australian exports, while having a minimal impact on China's future LNG supply options given the relatively limited volume of Australian pre-FID supply.
Despite such concerns, there is likely to be minimal impact on existing LNG contracts. Australian volumes are essential to meeting China's domestic gas demand, while several Australian projects have significant Chinese equity participation. Reported moves by Chinese buyers to invoke force majeure clauses in LNG contracts as the Covid-19 crisis first emerged in China in early 2020 ultimately made little progress. And while buyers may be unenthusiastic to repeat that experience, might efforts to renegotiate contract terms find fresh support in Beijing?
Canberra tightening restrictions on Chinese investment
Much has been made of China's moves to target trade with Australia. But while Beijing will likely continue its selective restrictions on imports from Australia, Canberra is simultaneously tightening rules on inward Chinese investment, including in Australia's energy and natural resources sectors.
As a result, Chinese M&A activity in Australia looks increasingly difficult. Without a tangible improvement in relations, for example, it looks very unlikely a Chinese company could acquire a significant LNG or upstream asset in Australia, either directly or through investment in a domestic company. For sellers in Australia's active upstream and LNG M&A market, this won't come as welcome news. Chinese buyers, particularly the NOCs, on the hunt for future equity investment in LNG projects may look elsewhere, including Russia and possibly Qatar.
Dialogue over rhetoric
Sadly, trade disputes rarely end well. Despite both Australia and China benefitting hugely from their well-established trade in energy and natural resources, decades of trusted and reliable partnerships are being put at risk. To pull back from this, dialogue, not rhetoric, is needed – and soon.
APAC Energy Buzz is a weekly blog by Wood Mackenzie Asia Pacific Vice Chair, Gavin Thompson. 
This content is protected by copyright and may not be reused. If you want to cooperate with us and would like to reuse some of our content, please contact: editors@pv-magazine.com.