From WattClarity
On Wednesday 27th September 2023 we wrote about 'Another (Tesla) big battery fire in the NEM … this one at Bouldercombe BESS in QLD'.
1)  A day later I was surprised to see that 'Bouldercombe battery has started charging again (Thursday evening 28th September 2023)'.
2)  I saw (at the time) that this was only brief spurt, but did not have time (or see a real need) to update that article.  Probably should have!
Following my article, Giles also noted this on RenewEconomy here … but unfortunately that seems to have sprouted legs and been misinterpreted a number of times on social media, such as by Warwick Johnston in the past 24 hours here on LinkedIn (a couple weeks later):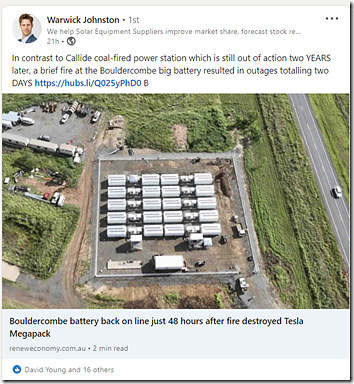 Now, batteries are wonderful things, but they are not miracle workers immune from their own operational challenges ….
(A)  The Bouldercombe battery is not yet operational again
Here's a view of what's happened over the past 30 days with both sides of the battery over the past 30 days … so spanning a couple weeks prior to the fire and the aftermath, as seen through the 'Bids & Offers' widget in ez2view: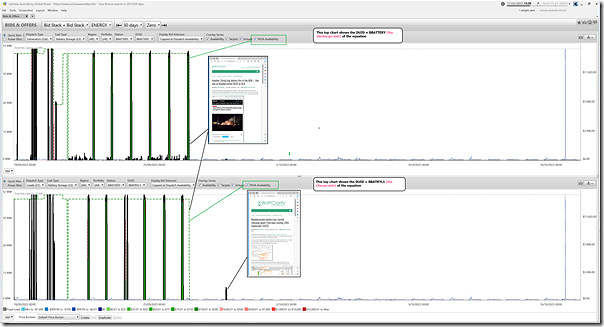 This is more what I expected to see (i.e. following a fire of unknown cause at any industrial plant – especially during a commissioning period).
Of particular interest is the green dotted 'PASA Avail' line, which shows how much capacity is available to the AEMO (even if it's not offered at any price).  See that these green dotted lines drop to 0MW with the fire and have not yet returned….
As we can see, apart from the brief blip on Thursday 28th September (for reasons I've not explored), it has not run operationally since the fire.
(B)  No further company updates
Remembering that I'd been pointed at the Genex company page on the ASX website for their Wednesday announcement about 'minor fire incident at Bouldercombe Battery Project', there is currently no subsequent update: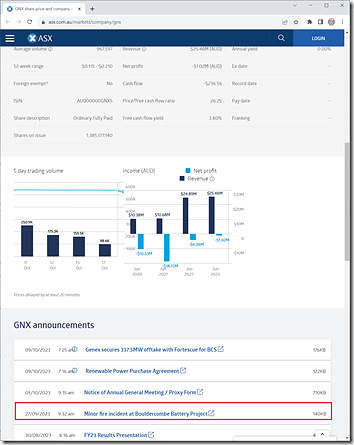 This content is protected by copyright and may not be reused. If you want to cooperate with us and would like to reuse some of our content, please contact: editors@pv-magazine.com.